Pictures are at https://www.srska.com/pictures/Ramadasu-Jayanti-2018/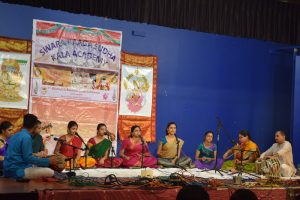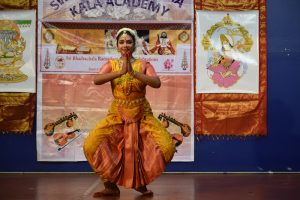 Videos will follow!
-Usha and Mani
Pictures are available – check them out!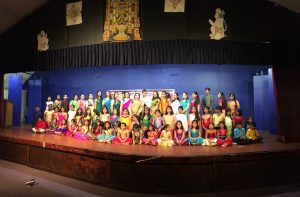 On December 18th, we all gathered together to celebrate and send off 2016 with a musical concert by the students, and boy – did we celebrate! A morning to remember for all of us – please look to your email for the pictures and video.
Looking forward to more fun in 2017!
Thank you all for another great year.
-Usha and Mani
For tickets and other details, please go to this url (click to launch in a new window):
https://www.eventbrite.com/e/srska-2016-spring-concert-anupama-bhagwat-on-the-sitar-tickets-22501546732
Sri Gurubhyo Namah ! Sri Sita Ramabhyam Namah !
With Sitamma Vari blessings and Lord Sri Ramachandra's grace, all your best wishes and support, yesterday's Inaugural Bhadrachala Ramadasu Jayanthi went very well!
Even now, our hearts and souls are still ringing to the melody and sheer joy that you created and shared by your participation, performance and presentation. Thank you – words are but a mere indicator of the magic you allowed us all to share.
Over 175 participants took part in this event with a wide variety of Ramadasu keertanas in various ragas – both Vocal rendition and dances. The event commenced with the group rendition of five Navaratna keertanas of Sri Ramadasu
Adigo Bhadradri
Sri Rama Namame
Paluke Bangaramayena
Taraka manthramu
Thakkuvedi manaku
Several teachers and students rendered the keertanas accompanied by various musicians on Violin, Veena, Sitar and Mridangam.
This was followed by 20 groups rendering various Ramadasu keertanas and a mini concert by Smt Vemuri Vijayalalitha , Siddharth Ashokkumar on violin and Sri Prakash Rao on mridangam.
Various dance performances to Ramadasa keertanas by Siddhendra Kuchipudi Academy, Kalanjali School of Dance and Nritya Madhavi School of Dance mesmerized the audience with their wonderful abhinayam and nrityam. Kudos to all teachers who taught these new dance items in such a short period of time and to the participants for presenting them so gracefully.
We thank all the teachers, participants for your support, preparing and participating in the event in a short period of time.
We thank you for being prompt and for staying through most of the program inspite of the worsening weather conditions. Thanks to all Annadaatha's and volunteers who worked incessantly behind the scenes !
Our heartful thanks to all who donated towards the event that helped us cover the costs for the event !
Thanks to TV5 for covering the event, Alkesh ji for par excellence printing of the brochures.
We look forward to your continued support and participation fore the next year's Ramadasu Jayanthi !
Usha & Mani Akella
The pictures are at http://pictures.srska.org/Ramadasu-Jayanti-2015/
And the TV5 news spot is at https://www.youtube.com/watch?v=ZFoWX9dwxHg&feature=youtu.be
Music is the most liberating experience for the soul !!!
The artists came together in a wonderful expressive way and gave a new meaning to the thought behind the phrase Swara Raga Sudha Kala . 
The Bharatnatyam set the tone for what turned out to be pure mystique. The children started us on our journey with vigor and enthusiasm even as little feet traced intricate patterns. Sri Chetan and Smt Akhila then raised the bar with their delicate artistry and exquisite expression.
Smt Indrani picked up and through her rendition took the raga Madhuvanthi to a new level of clarity and beauty.
Sri Krishna then translated that beauty into precision, artistry and sheer magic. Not to be left behind, the instrumental trio of Sri Madhu ji on the harmonium , Sri Mani on the sitar and Kum Ramgasri on the violin took on the mantle and wove a web of such extreme delicacy and yet extreme complexity that the ears had no desire for anything else. But that was not the intension of the percussion duo of Sri Laxmisha on the mrudangam and Sri Sarangdev on the tabla. They capped off the performance with a finish that left everyone breathless !
Thank you all !
Here is the link of the evening from ManaTV
http://www.youtube.com/playlist?list=PLxyLM2X7H8Sen2VjfozOIrvpTsA4xe2ei
There will also be a news announcement on TV5 this evening at 5:30 pm and 7:30pm.